Always Free
Start Using OneHub Today!
Complete the form on this page to set up your OneHub account and get immediate access to start managing your asset and maintenance data.
Step 1
You're Here! The first step is to get a little information from you so that we can get your account ready for immediate access. Simply complete the form on this page.
Step 2
After filling out the form on this page, OneHub will work quickly to get your new account set up, as soon as it's ready (a few minutes) we'll send you a welcome email **This email contains a link to set your password
Step 3
You're in! Just set up your password and you're off to the races! You will receive immediate access to your OneHub account.
IT Asset & Spare Management
With OneHUB, managing your IT assets and their spares has never been easier. Quickly manage your infrastructure and view sparing information with ease.
Optimize Your Maintenance
With our powerful maintenance optimization tool built into OneHUB, you'll never overpay for coverage again, regardless of your maintenance provider or OEM.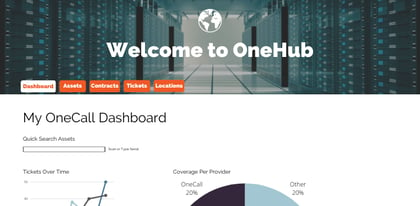 Built for You... and Your Team
Invite your colleagues
Manage your team accounts
Create a single source of truth for your IT assets
Track asset locations, globally
Move assets & update sparing info
Run deployment reports & track your most critical assets
Unlimited access to TAC Support*, anytime 24 x 7 x 365
Your own virtual engineering team
Track incidents & resolutions
Raise & escalate TAC tickets*
Update deployed asset spares automatically
OneCall + OneHUB
IT Maintenance & Contract Management Made Easy
Unbeatable global coverage
Track & manage your cost centers
Quickly find assets by location
Localize your support with location management in OneHUB
There's Really Nothing More To It!
After completing the form on this page, the OneHub system will begin provisioning your brand new, fully featured, OneHub account. As soon as your new account has been provisioned, you will receive an email, at the address provided, to set your OneHub password. After setting your OneHub password, you will have immediate access to OneHub and all of its many features.
The ability to raise and escalate tickets is only available to OneHub users who are also OneCall Maintenance customers or who have an active OneHub + TAC subscription. OneHub users who are not using OneCall Maintenance to protect their critical assets or users who are not active OneHub + TAC subscribers will have the ability to create & track tickets in OneHub - just without TAC support.